Chronital
CHRONITAL is used in all applications where non-rusting materials such as aluminum, zinc, stainless steel, brass, bronze, etc. are blasted.
CHRONITAL's large spectrum of grain sizes makes it perfect for cleaning, de-burring, hardening and surface finishing of all types of castings, forgings, profiles, wire and welded structural parts, without the possibility that rust could discolor the bright surface due to ferritic dust.
CHRONITAL distinguishes itself by having a high percentage of spherical grains and by its compactness. The end result is low consumption, high performance and low machine wear.
Using CHRONITAL on smooth and textured pavers brings out the stones unique appearance, and the possibility of developing unsightly rust spots on the surface of blasted concrete and granite stones due to the remains of ferritic particles is ruled out.
Chemical composition:   C   0.14-0.18%,  Cr  17-19%,   Ni  8-10% 
Bulk density: 280lbs./ft3
Hardness: on delivery ~28 HRC (~275 HV), as operating mix ~47 HRC (~475 HV)
Microstructure: austenitic
Main fields of application:
Blast cleaning, deburring, surface finishing, surface-improvement
All types of aluminium castings and forgings
Zinc pressure die castings
Non-ferrous metals and special alloys
Stainless steel castings and forgings
Machinery and welded structures in stainless steel
Concrete and natural stones
CHRONITAL offers the following advantages:
Great durability
Short blasting times
Bright appearance
Rust-free surfaces
Reduced wear of blast cleaning equipment
Low waste disposal costs
Dust-free blasting process
Blasting of metals...
For efficient deburring
For bright appearance
For surface preparation prior to coating
Stone blasting...
For smooth and textured surfaces
For non-slip surfaces
For dramatic appearance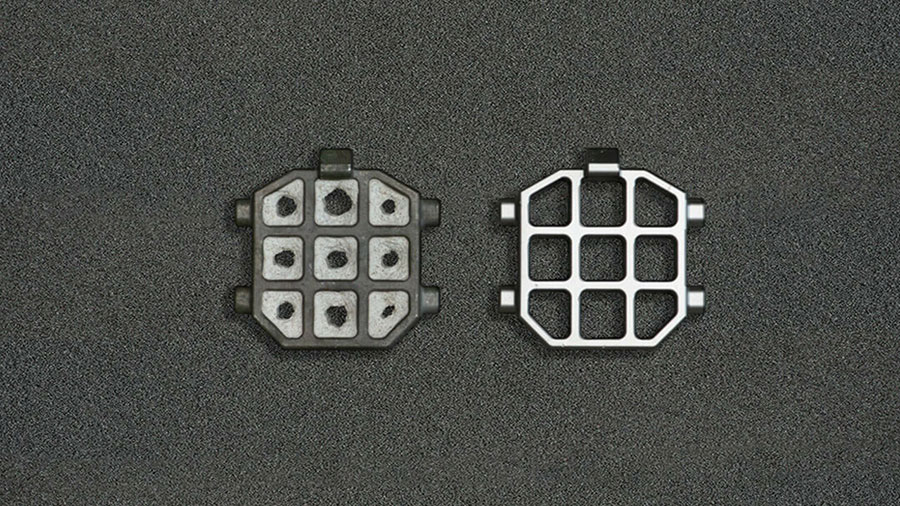 Stainless investment casting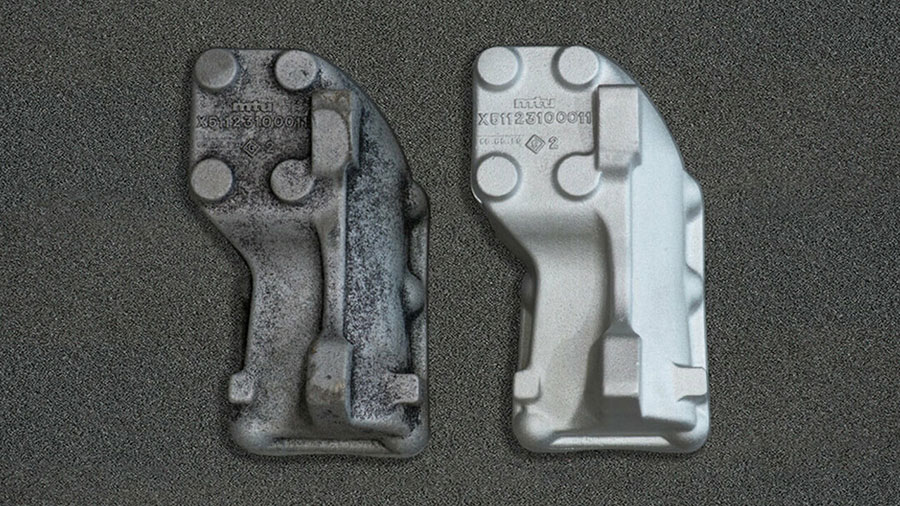 Aluminum sand casting
Grain Sizes
Cast Stainless Steel Shot
Images shown for visual comparison only - NOT ACTUAL SIZE.
S10
.05-0.2 mm
170-100 MESH
S100
1.00-1.40 mm
18-16 MESH
S150
1.25-1.7 mm
16-14 MESH
Packaging
55 lb Bags
1100 lb Pallet
1760 lb Drums
Other packaging available upon request
Subject to change without notice.
All specifications are only a general description of the products.